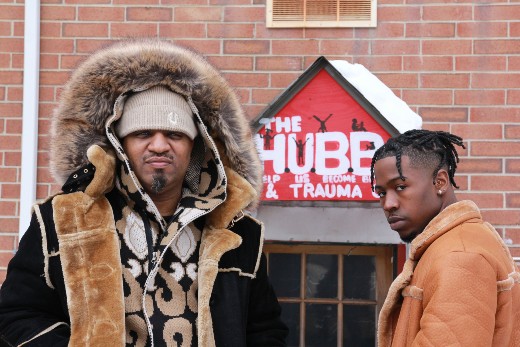 Newark, NJ has a reputation for producing rappers who can effortlessly translate stories of street life into catchy, melodic rap songs, and Al-Tariq Best, AKA Mr. HUBB, is the latest Newark "Artist" to grab our attention. He sits at the helm of The HUBB Arts & Trauma Center. HUBB stands for "Help Us Become Better." He is also the founder of The HUBB Stars music group. Al-Tariq Best exudes the confidence, poise and unflappability of a seasoned music veteran. The main ingredient that sets him apart from his peers is the natural bounce that sits at the core of his songs. He offers the rare ability to balance meaningful storytelling and lyricism with an endless arsenal of catchy melodies. His style has morphed into an eclectic and versatile mix over the years. What remains consistent across his rapidly expanding music catalog is his innate joy for the art of Hip Hop.
Al-Tariq Best represents a beacon of hope for many in Newark, NJ and he carries his city on his back. He writes songs for the underdogs. "Never underestimate the heart, determination and hunger of an underdog. One way or another, they find a way to beat the odds," notes Mr. Best. ThatHUBBLife ENT, LLC is a Social Enterprise with an Entertainment Label that represents the perfect cocktail of boldness, passion and explosive talents resulting in intentional community impact. At times brilliant and at times daring, The talent being released from the label is thoroughly engaging. The Brick City Collective offers a rare blend of wild ambition, inventive videos, and social consciousness that's often absent in today's rap music. The HUBB Stars' music has been featured on such premier music outlets as The Source, Hip Hop Weekly, Respect Magazine, IHeart Radio, and more.
Moreover, Al-Tariq Best recently collaborated with rising singing star RnB Hunter on a song entitled "Live For Something." The song is a celebration of life. "Live For Something" is a refreshing departure from the cookie cutter playlist of songs currently in rotation on the commercial radio airwaves. The song offers something more authentic and real. The lyrics are deep and soul piercing. Al-Tariq Best "Mr. HUBB" instructs the youth to choose life over death and live for something greater than themselves. RnB Hunter sings the chorus and bridge with passion. He is like the embodiment of the classic essence of Marvin Gaye with a contemporary soul. Equally important, the short film music video for "Live for Something" is like a mini movie filled with drama and triumphant. "Live For Something" is a very important song and video with a message of anti Black On Black Crime and Domestic Violence, which counters the chronicles of "Demon Time" spewed by the current crop of drill rappers.
Al-Tariq Best AKA Mr. HUBB And RNB Hunter – "Live For Something