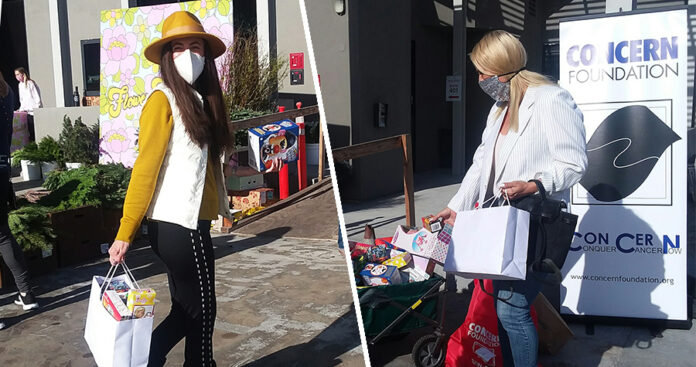 Amber Martinez, with roles in such films as Senior Entourage with Ed Asner, Helen Reddy and Mark Rydell, and in Madness in the Method with Vinnie Jones, Casper Van Dien, Danny Trejo, Kevin Smith, and Hollywood writer/actor Dominic Burns, has decided to give back again this year during a pediatric cancer patient Christmas toy drive. Amber has also appeared in many television shows, such as Why Women Kill with Lucy Liu, Dirty John starring Christian Slater, and in Ron Howard's 68 Whiskey. She decided, that even though times were extra tough this year with the presence of Covid-19, that she risked her own health, to go out and make sure that there were smiles on the faces of the children helped by the Concern Foundation. Amber stated, "I would just hate to allow the children, to be let down this year, because of the lack of donations with the pandemic. Especially, with all that 2020 has brought on the World. I want to be able to bless them with a happy holiday and put some smiles on their faces. What a large amount of people do not understand, is that a simple gift, can bring so much happiness and make a child feel special. Feeling happy, can ease their pain and help boost their moods. I urge more people to donate funds or toys to this wonderful charity." The Concern Foundation funds research for treatments and the prevention of cancer.
The Concern Foundation was originally started by a group of friends, who wanted to help one of their friends, a woman by the name of Beverly Wolman. She ended up passing away from cancer, however, her legacy was turned into something much more inspirational. The foundation started in the 1960's and is still going strong in funding for research to this day. In the early 1980's the Concern II Foundation, comprised of a younger generation, ages 18 to 35 arrived. One of the founders and current president is Derek Alpert. Derek Alpert was also present at the fundraising and toy drive. Derek Alpert is related to actress Eden Alpert and Grammy Award Winner Herb Alpert, co-owner of Vibrato Grill Jazz, in Bel Air, California.
Amber was seen donating toys and purchasing flowers at the outdoor fundraiser and toy drive. The event was co-hosted by Flower Truck LA, who were selling flowers at their market and helping raise money for cancer research. Also in attendance for the event were many other entertainment professionals. Joyce Chow, entertainment producer, founder of MBN Media, Montebubbles Entertainment, and co-founder of the Brentwood and Pacific Palisades Film Festival, was seen also donating toys and buying flowers. Christine Reed, owner of Platinum Image Services, makeup artist and beautician to many celebrities and producer Margaret Grimm, were also seen giving back to the Concern Foundation through toy donations.