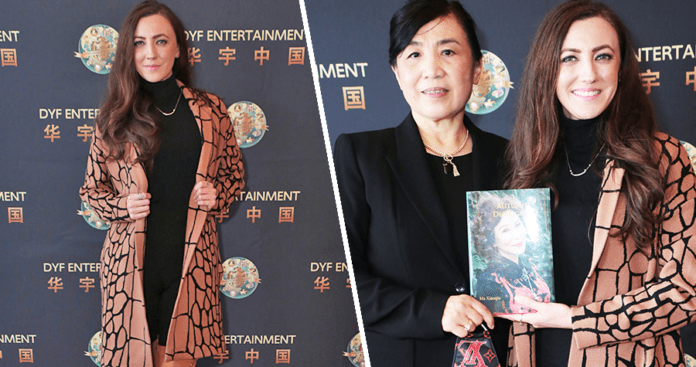 On Nov. 21 , 2020, self-made Chinese Billionaire and the founder and president of China DYF Group, Ms. Ma Xiaoqiu, released her novel "Autumn Dialogues", at a private release, in Beverly Hills, CA. Since, the release had to follow Covid-19 safety guidelines, only a select group of celebrities, entertainment professionals, and both national and international business executives, were invited to attend. One of the celebrities invited, was multi-talented actress, Amber Martinez (Senior Entourage, NCIS, Animal Kingdom). Amber Martinez can be seen in many films and television programs. Amber's works are ranging from multi-million-dollar productions to independent feature films.
Amber Martinez was seen in conversation and discussions, with Ms. Ma Xiaoqiu's U.S. business representative for DYF Entertainment, Ms. Jeannie Yi. When asked for comment, Ms. Martinez replied, "I would love to work more with the Asian markets and completely enjoy international projects. I also really admire and respect Ma Xiaoqiu's life and work ethics. I think it is absolutely amazing, how she was able to build her empire from the ground up and I fully respect her achievements. I would count myself blessed and lucky, to work with such a woman and her company. I am definitely open and willing to collaborate with Madame Ma Xiaoqiu and her future projects."
Ms. Ma Xiaoqiu's book "Autumn Dialogues" is published by Homa & Sekey Books. The book is described as a "series of meditations". The meditations within the book, paint a picture of the necessity for positivity and focus, and the virtues of life lessons. These meditations have brought both Chinese traditions and international community, together in a mix of literature. Ms. Ma Xiaoqiu's thoughts and inner strengths, have brought her to the status of Billionaire fortune. Ma has also been mentioned in Forbes magazine and participated in many philanthropic works.
During the book release and taping, actress Rebecca Holden (Knight Rider, Magnum P.I., Baskets) and international pop singer Josh Moreland, sang a unique song, devoted to Ma Xiaoqiu, in honor of her life and accomplishments. Rebecca Holden has been recently working on her next film, the supernatural feature "The Life Force", which is still in the development stage. Recording artist Josh Moreland, also debuted one of his newest soundtracks at the event. Also, in attendance, was fellow singer Francesca Gioia Drommi and actor Arthur Peng. Ryan R. Johnson, multi-faceted and established Hollywood producer (Arkansas, 9/11, The Comeback Trail), was in attendance and seen conversing with many attendees. Producer Dominique Appleby, producer of the documentary film "Trees – A Planetary Treasure", was present and there to show her support of DYF Entertainment. Senior Director of Gold Gate Capitol, Mr. Andrew Eaton was also present and discussing potential investments. Mr. Eaton is also the VP of the International Arts Association, which is in Beverly Hills. His mother, Dame Leith Eaton, is the CEO and founder of the International Arts Association, and was also one of the hosts of the book release. All photos taken from the book release were by celebrity photographer, Guillermo Proano. Ma Xiaoqiu's book will soon be available for World release.