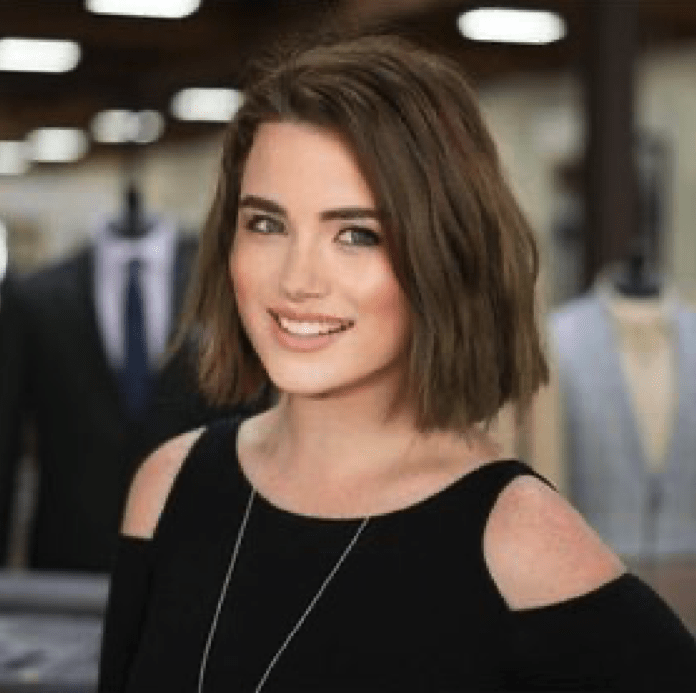 Lindsey Evans started as a dancer in music videos working alongside Kesha, Jason Derulo, and Jennifer Lopez. Lindsey dressed celebrities for red carpet appearances for a decade and is the co-host of Wine Thirty with Andrew & Lindsey, The Bach Report, and I Just Don't Have Time For. Lindsey works alongside her finacee and business partner, Andrew Lindaas. We chat with Lindsey about the transition to podcasting, being a Covid bride, and hitting #2 on the Sri Lanka podcast charts.
You started as a music video dancer and fashion stylist – how did you transition into podcasting?
It just sort of happened. I was working as a library assistant, working as a fashion stylist, and doing random acting gigs at the time we were gifted a podcast mic. Andrew & I started brainstorming individual projects and decided to record an episode of Wine Thirty on a whim. We opened up a bottle of wine and figured it would be good practice for our own podcasts. We had moved in together about 6 months prior and both worked full-time so it was a way for us to sit down and chat with each other and drink wine while still feeling productive. I never would have imagined that it would turn into our careers.
How did it feel hitting one million downloads within your first month of podcasting?
It was absolutely insane. I think we started podcasting at just the right time (early 2016) and it was something that the people who followed me on social media really got into. I never anticipated that people would actually want to hear us drink wine and ramble.
I wouldn't call it rambling. You shed a lot of light on political and cultural subjects, as well.
Andrew definitely brings the majority of the substance to our podcast. I feel like he's constantly researching and learning while I'm off scrolling on social media and reading celebrity news. I think the fact that we function in such different ways actually works really well for us.
Speaking of Andrew, you were planning on getting married in 2020 but had to postpone due to Covid. Have you picked a new date?
Yes! We were planning our wedding for last July and were thinking we would have about 60 guests and now we're planning a microwedding in NYC for May and most of our friends and family will be attending virtually.
That's a great way to utilize technology! How do you plan on continuing to grow your business in the New Year?
We were hoping to travel and do some live shows all around the world, but dependent on the virus that will probably get pushed until 2022. We're definitely focusing on connecting more with our listeners. We started a Discord group where we can chat with everyone and do live podcasts. We're toying with a lot of different ideas right now but really want to work on creating some physical products that are eco-friendly and help bring awareness to platforms that are important to us.
The Bach Report is you and Andrew recapping the Bachelor every week. You've recapped seasons from the USA, Australia, and New Zealand. Do you plan on expanding that to other countries and how do you feel about America finally having a black bachelor?
Having a black bachelor was long overdue. Matt James isn't who I would have picked. I would have much rather seen Mike Johnson, Ivan Hall, or Demar Jackson but I'm excited to see more and more diversity on the show. We are going to recap other countries still, as well. We did just watch an episode of The Bachelor South Africa but I think we're going to go with either the UK or Australia for our next season. But Matt also has an amazing group of girls this season, so who knows…maybe we'll recap the USA again.
Do you have any winners picks for Matt yet?
Katie is my absolute favorite and I adore her. However, I feel like he's going to end up with Rachael.
Katie was very full of personality. We know you are a huge fan of Taylor Swift and you both have birthdays on 12/13/1989. If you could only listen to one song from each of her albums, what would you pick?
I feel like my answer for this changes day to day. At this very moment I have to say… Our Song, The Way I Loved You, Long Live, Holy Ground, I Know Places, Call It What You Want, Death By a Thousand Cuts, August, and Long Story Short. But I feel like tomorrow I would tell you a completely different list. Honestly, someone could pick a song from each album out of a hat and force me to listen to them forever and I'd still be happy.
You've worked with and interviewed a lot of incredible celebrities over the years. Out of everyone you've met, who are the most underrated and overrated?
You obviously want some tea. Ugh! I hate saying anything negative about people, but I would say I didn't find George Clooney to live up to the hype. He's a nice enough guy, but I didn't find him to be exciting in any way. Most underrated I would say Hugh Laurie, Kesha, Isla Fisher, and Kevin Bacon. All four of them come across as super fun and relatable and make you feel comfortable.
Who would be your dream interview on the podcast?
Obviously, Taylor Swift but I'd also love to interview Patton Oswalt and Mark Hamill. I love their Twitter commentary on everything going on in the world.
Where can people follow you online?
People can follow me at @lindsey.sparkles on Instagram, @linelizabeth89 on Twitter, or people can sign up for our email list at freshethicmedia.com