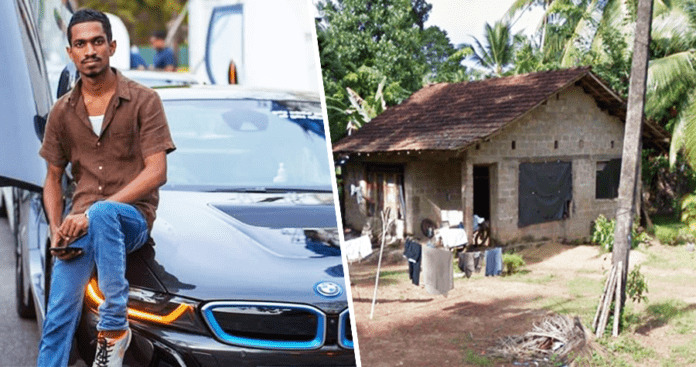 Success is a combination of extreme desire and hard work. Dilina Dakshila Molligoda is a 22 years old entrepreneur in Kalutara, Sri Lanka. He studied at a school in Kalutara and moved to Sri Sumangala College in Panadura. His family consist of five members; Dilina, mother, father, elder sister and younger sister. Before becoming a successful entrepreneur, Dilina worked at a garage and at a bus as a conductor. But he could not work more than one week in the garage. His mother warned the owner of the garage not to take him as a worker because he is too small to do hard work. So, Dilina did not receive any payment from his first job.
Meanwhile, Dilina applied for two job opportunities in two different shops but he got rejected from both shops due to his age. At that time, his age was a massive challenge for him. Now, Dilina is an owner of 8 luxury vehicle. In 2016, he bought a Toyota Prius when he was 17 years old. But Dilina wanted to buy a bus since he was a kid. Unfortunately, his family members didn't allow him to borrow a bus to their house because at that time, the economy of his family was at a downfall due to busses. He was very upset with the decision of his family. He fought with his family and didn't talk to his parents for a few weeks. But his parents didn't change their decision. Therefore, Dilina had to change his mind and move on to a car. Then he bought an Audi, BMW i8, Defender, Porsche, 2 Prime movers and one vehicle is waiting for shipment. He hasn't sold any of these vehicles.
Although he got rejected from two jobs, he didn't quit. While searching for a way out, Dilina saw a newspaper advertisement about E-Money course. Then he followed that internet marketing course which gave him an idea about making online money. So, he began thinking whether it is fruitful and profitable. Dilina searched for a proper way to achieve his targets. He had an interest in application software marketing. He started digging for information and started working. According to Dilina, if someone works hard and he has a fixed ambition, he will win his life someday. His first salary was Rs. 372.16/= which he earned by developing and promoting applications. But his actual profit was Rs. 72.16/= because it cost Rs.300/= for a data card. When Dilina was doing his Advanced Level studies, Dilina saved his class fees for his future dreams. Some days, he only survived with a bottle of water and he kept the money given for meals. Those hungry days taught him the real lessons of his life.
Dilina is a Buddhist and a very religious person. He says that he donated Rs.100 to Kalutara temple with his first salary. Everyone has a dream and an ambition. When Dilina was a child, he wanted to become an engineer. In the present, he does application promoting, business, advertising, marketing, importing…etc. There is a speciality in Dilina; he respects every religion. And also, he has friends from different nationalities and religions. He is not a racist. Because of his humble behaviour, people respect him more than they respect to other successful characters in society. People find that Dilina is different from others due to his good qualities. Dilina always follows Buddhism and he works according to Buddhist theories. He is a very patient and an ambitious character. If he thinks that he needs something, Dilina is ready to sacrifice everything he occupies. That's the secret behind his success.
Dilina is a teetotaler and also he does not believe in astrology. According to him, Sri Lanka is the best country for a developing person. Although many people say that South Asia is not a good setting for a developing man, Dilina says that if you have the courage and ambition, anyone can achieve their targets regardless of the country, language and social level. At present, he runs his own company with nearly 16 active members. For ambitious entrepreneurs in Sri Lanka, Dilina publishes a website called " https://internetjobs.io ." In this website, he teaches proper methods to earn E-Money. According to Dilina, it's better to do more than one business because you'll never know when you will fall or fail. He is still single and Dilina says that he sees a girl as a high expense. He highly focuses on his dreams while neglecting every other obstacle. At last, it's clear that Dilina's success is not something occurred by luck or illegal activities; he achieved it through hard work, persistence and focus.