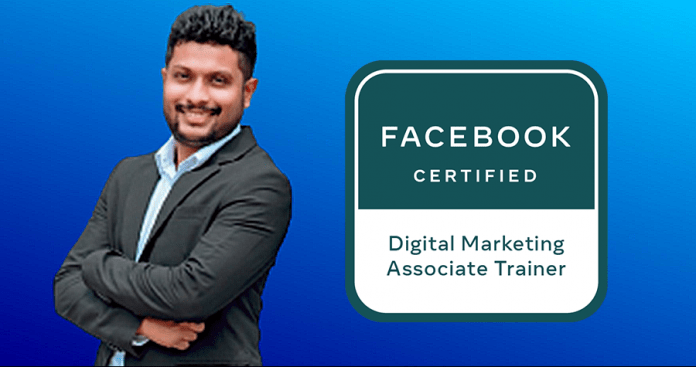 Sajeewa Randula Dissanayake is a well-known personality among Sri Lankan social media users. We can rarely find someone who hasn't heard of this talented young man. He is an experienced and reputed social media strategist and an artist. He was first recognized in 2016 after his song "Ikman Vela" went viral on social media. His extreme capacity to solve social media issues was highlighted in 2020 after recovering Ratta's hacked YouTube channel. 
After years of hard work and dedication, Sajeewa achieved a golden milestone in his career. He became the first and only Facebook Certified Digital Marketing Associate Trainer in Sri Lanka, with only 6 others in the world. This is a huge achievement that can be accomplished only by the best digital marketing experts in the world.
"It is noteworthy to mention that this certification is offered after broad selection criteria and had to complete and successfully pass a 2-day in-depth Facebook training, demonstrating the ability to deliver and facilitate training on Facebook digital marketing skills based on strict criteria. This rigorous, hands-on workshop focuses on training and facilitation skills to empower trainers to help develop the skills of others within their respective communities," says Sajeewa Dissanayake.
Now, he is officially one of the three Facebook Certified Trainers in Sri Lanka. It's great to see a highly qualified social media strategist in our country who is willing to safeguard fellow Sri Lankans from social media issues. He is an excellent motivation for anyone who is striving to achieve their career goals.