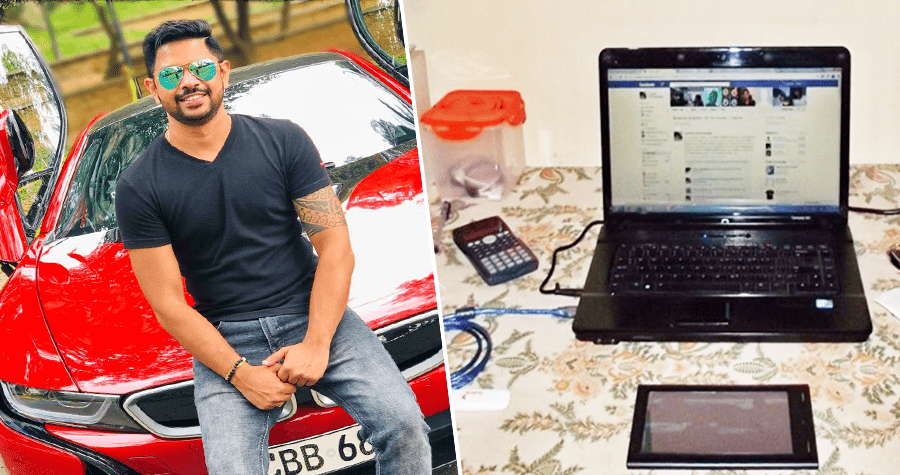 Lasantha Wickramasinghe is an inspirational example for the people who are beaten by failure and hoping to become a successful entrepreneur. His childhood was not enriched with comfort and happiness. He is from a middle-class family in Sri Lanka and he had to struggle for success. But he didn't quit. With full strength and hope, Lasantha climbed the tree called "life" fighting with all problems that came towards him.
He studied at Dharmaraja College in Kandy. According to him, he chose Mathematics stream for A/Ls. In the first attempt, he failed. But he tried another time, the second attempt too was not a success. As I mentioned above, his family was not wealthy. His parents did not have enough money to spend on private education. However, he did the Management Assistant exam and entered the Department of Museums in 2005. At that time, many people believed that it was a well-settled career path because it was a permanent government job. But Lasantha says that he was not satisfied with the job and salary. He had to work from 8 a.m. to 5 p.m. for Rs.15,000/=. He expected something better. He is a man who thinks beyond the box. He had big dreams those days. Those dreams pushed him to find another way out.
Lasantha had a keen interest in computers since he was young. So, he used to spend the free time with his computer. When compared with contemporary society, the internet was not common among Sri Lankans in early generations. Although he had a computer, he did not have internet facilities. Lasantha says that he struggled with limited resources in the beginning. After acquiring an internet connection, he browsed the internet looking for job opportunities. At that time, e-money was not a popular subject. There were only a few people he could get help when he is in trouble. Today's youth is wasting their free time on social media or doing worthless things. But Lasantha is different. He used to surf the internet looking for job opportunities.
Lasantha had a clear target. Therefore, he worked with all his power and strength to achieve the goal. After some time, he was able to buy a laptop with his salary. Although there are plenty of successful people in today's society, he recalls that he hasn't heard of any successful person through e-money at that time.
While surfing on the internet, he found information about Google AdSense. After reading some blog on e-money, Lasantha started his own blog. He added valuable content to the blog with the firm intention of attracting visitors and getting approval for Google AdSense.
Meanwhile, Lasantha heard about Fiverr, where you can get paid for skills. He followed a graphics course before entering the world of graphics designers. He says that you must become good at something before entering the marketplace. So, he started doing graphics for random customers all over the world. In 2012, he was able to earn more than 1 lakh in Sri Lankan rupees per month. He understood that the government job was a waste of time and he resigned from the job. This entrepreneur started his own business in an upper floor room in his house with four computers. He named it "BuiltApps." Where he mainly focused on SEO and Google AdSense. He invited some of his fellow friends to join the business and they started creating content for their website targeting Google AdSense.
Lasantha says that he always wanted to be different. While others are trying to earn money through the local market, he silently worked to earn dollars. According to him, if he was limited to the local market. He would be like a fish in a tank. When a fish in a tank drinks water from the tank, its belly gets full but it does not affect the water level inside the tank. Like that, if we want to develop the economy of our country through our business, we should add water from outside. Doing an online business not only improves your personal growth, but also affects the development of our country. He is a humble man who wants others to become successful like him. Lasantha started his freelancing career with Fiverr. He still recalls how he used to work at Fiverr.
The Online Entrepreneurs Club is a valuable place for both new and experienced freelancers. You can share your knowledge while gathering much useful information. Lasantha intends to share knowledge through this group, it can be helpful for many entrepreneurs. When he started his business, he had zero knowledge in software development field. So, it was a hard time for him to grow the business. Finally, he was able to catch some investors through his proposals.
With his passion for online business, Lasantha became the Managing Director of Outsmart Hub Sri Lanka. Now he is an owner of some luxury vehicles including BMW i8, Mercedes Benz, Hummer and Audi. Now, he is married and a father of three children. In 2020, All Island Cultural Environment Protection Organization awarded him with Deshamanya award which is categorized under National Honours. This award is known as the second-highest National Honour of Sri Lanka. Lasantha advises newcomers to find something which suits your passion. He says that it's not important what you're doing, it's important how you're doing it. If you work hard and focus on your dream, you're not too far from achieving it. According to him, no matter whether you're doing AdSense, Fiverr, Forex or any other valuable thing, you should be good at it before going deep. If you have the talent and interest, you will be successful oneday. He also advises not to use tricks or shortcuts because they will not long last and you may lose all your hard work. When taking a deep look into his life, it's comprehensible that you must need extreme desire and diligence to achieve your dreams and targets.